Custom Men Jewelry
---
* Our collection of men's jewelry includes custom-made pieces that are tailored to your unique style.
* Our range includes necklaces, bracelets, earrings, and rings made from high-quality materials such as sterling silver and stainless steel.
* Whether you want to add your initials or a special date, our skilled artisans can help you create a one-of-a-kind piece that reflects your personality.
* LOW MOQ: 10pcs/ per design
Product Description
Custom Men Jewelry with Your Own Design in Low MOQ, 10 pcs ONLY!
Custom made men's jewelry has become increasingly popular in recent years as more men seek unique and personalized accessories to complement their style. With custom made jewelry, men can choose the materials, design, and size that best suit their individual tastes and needs. Whether it's a bespoke gold chain or a custom-engraved silver ring, personalized men's jewelry can be a meaningful and timeless investment that reflects one's personality and character.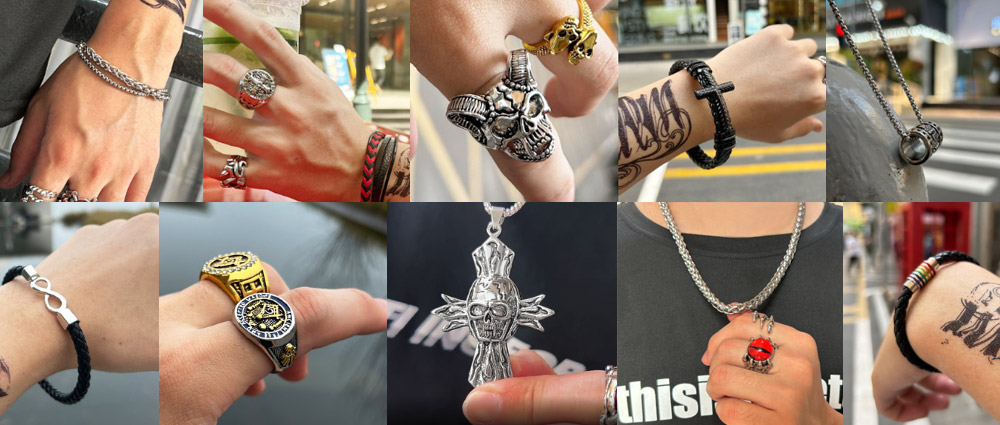 Men's jewelry style has evolved to include a wide range of designs, from classic and minimalist to bohemian and edgy. Popular styles include clean and simple designs, timeless classics, bold statement pieces, and custom-made personalized items. Express your unique style with our collection of men's jewelry today. Our collection of men's jewelry features sleek designs made primarily from durable stainless steel and sterling silver materials. If you have a budget issue, welcome to contact us. We can give you more suggestions for material.
You can reach our Sales Rept. 24 hours a day, 7 days a week

Email: service@jr-earring.com

WhatsApp: 886-958-802-677

There are different types of chains available for men, such as curb chains, rope chains, box chains, figaro chains, Cuban chains, and snake chains. We offer a range of materials to make chains, including sterling silver and stainless steel, as well as different finishes like polished, matte, and oxidized. Men's chains come in various styles, each with unique characteristics and history, and each style of chain is suited for different outfits. Browse our collection to find the perfect chain to complete your look.

Our men's chains typically range in length from 50cm to 60cm, making them a perfect fit for most men. If you're looking for a hand chain, our options typically fall in the range of 21-25cm in length. However, we also offer custom sizing options for those who need a specific length. Whatever your preference, we have a variety of chain styles, materials, and finishes to choose from, ensuring that you find the perfect chain to complement your personal style.

Whether you want to customize an existing style with your own logo or create something entirely unique, we've got you covered.
If you want to start with an existing design, we have a variety of options to choose from, including simple pendant necklaces, charms bracelets, simple bangles, and signet rings. Simply select the style that best suits your needs and provide us with your logo or design. Our team will work with you to ensure that the final product meets your exact specifications.

If you have a specific design in mind, we can create a custom piece just for you. Our skilled craftsmen will work with you to bring your vision to life, using only the finest materials and attention to detail.
No matter which routes you choose, our goal is to provide you with a one-of-a-kind accessory that you'll be proud to wear or gift. Contact us today to get started!

Our range includes necklaces, bracelets, earrings, and rings made from high-quality materials such as sterling silver and stainless steel. Besides choosing from classic pieces in our existing designs, we also offer customization services. We offer affordable prices and are committed to providing high-quality jewelry to suit every taste.
Wholesale Purchase , MOQ : 10pcs & Custom made jewelry , MOQ : 10pcs
No matter if you're interested in a custom order or a wholesale purchase, we want to highlight that our minimum order quantity is very low. In fact, we are happy to accept orders as small as just 10 pieces. Whether you're interested in buying in bulk or creating a unique piece tailored to your specifications, we're happy to work with you to meet your needs. Corporate with us today to find the perfect piece to add some personality to your wardrobe.

Email: service@jr-earring.com

WhatsApp: 886-958-802-677
| | |
| --- | --- |
| Category | Fashion Accessories, Men Jewelry |