Stainless Steel Jewelry
Five know-how about customized jewelry in Stainless Steel
Stainless steel has become an extremely popular metal for jewelry lovers in recent years. It is safe to wear for any kind of person even for sensitive skin, plus it looks beautiful. There are so many reasons to wear it. Stainless steel jewelry has many advantages before you go ahead and custom-made stainless steel jewelry, here are some things you need to know. Let's learn more about Stainless Steel Jewelry!
1. Hypoallergenic

Stainless steel jewelry doesn't affect the body or cause any adverse effects on the skin so unplated stainless steel pieces are excellent for customers with allergies and sensitivity to other base metals, such as alloys. It is safe to wear without triggering the flare-ups of gold and silver too. If you tend to develop green unsightly marks when you wear jewelry, stainless steel might be a good option for you.
2. Durability

Stainless steel is made from chromium, nickel, and titanium. It is a kind of alloy which is inexpensive but very durable, highly utilitarian, and also looks nice. If you're tired of high-maintenance jewelry, stick with stainless steel as it's resistant to rust, discoloration, and oxidization. This is because of an invisible layer of chromium that prevents oxidation from occurring. This metal is the best suggestion for those living in high-humidity locations, as the metal will keep from rusting much longer than other metals. If you would like to customize jewelry with your own design, stainless steel is a nice material option.
3. Easy To Maintain
Stainless steel jewelry is very easy to maintain because it won't rust as long as the protective layer of chromium on it is maintained. The benefit of stainless steel material in won't change color over time, and stainless steel jewelry doesn't get scratched or damaged easily like other metals. Now, your understanding of how to clean stainless steel jewelry is a piece of cake. Here are the ways to keep stainless steel jewelry clean.
Soap and water
Baking soda and water
Toothpaste
Ultrasonic cleaner
Avoid harsh chemical
4. Stainless Steel Jewelry Can Come In A Variety Of Designs
4-1) Length

We offer a variety of sizes and styles of stainless steel chains for options and also accept customize any length of stainless steel chains. To know if this is for women's or men's jewelry, you would have to check the length for the most suitable one. However, a kind reminder that a longer chain would bring a heavier weight on the neck if the chain is a chunky one.
4-2) The Colors of Cubic Zirconia and Crystal on Stainless Steel Jewelry

As a synthetic gemstone, cubic zirconia comes in a large array of colors from colorless to a wide color range to choose from. We can custom made any colored stone on stainless steel jewelry. The below chart shows you different colors as they are. More crystal stone is another option to make a choice on other different colors you may wish to have if you don't see any color you prefer in cubic zirconia.
4-3) Different plating colors for selection on Stainless Steel Jewelry

Apart from stainless steel jewelry having a natural silvery look to it, there are 3 most common plating colors you may change Gold, Rose Gold, and Black. We can custom made any plated color on the stainless steel jewelry you need. The PVD coating process is applied to the plating colors. PVD is the process of physical vapor deposition. It is a process that is used to coat stainless steel. PVD coating is more resistant to corrosion from sweat and regular wear than gold plating.
5. Affordable Prices in Stainless Steel Jewelry
Stainless steel jewelry is more affordable compared to silver. If you cannot afford an expensive sterling silver material in your jewelry design, you can choose stainless steel material which will be affordable and durable. We are a Custom-Made Stainless-Steel Jewelry Manufacturer and specialize in custom processing to meet your inquiry for stainless steel jewelry. Standard stainless steel jewelry production services such as cutting, polishing, plating, engraving, and stone setting. We can work on a proposal based on your budget amount and also gives you peace of mind to save time & money in receiving good quality at an affordable price for Stainless Steel Jewelry.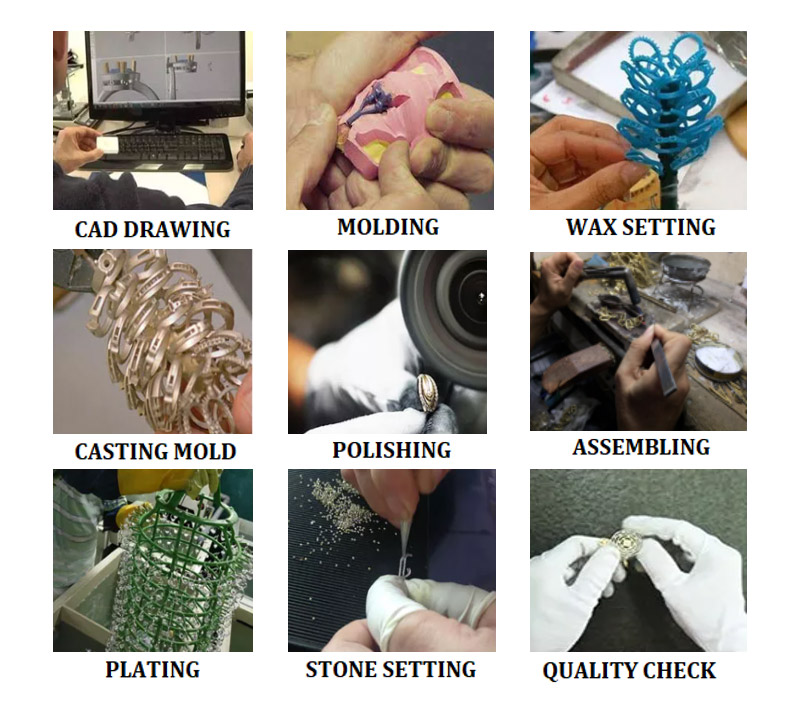 6. Regarding Stainless Steel Jewelry Plated. What is PVD Coating?
Our stainless steel jewelry is coated with PVD (Physical Vapor Deposition) which is a vacuum coating process. This process produces a beautiful, decorative, and highly functional finish on the item being coated. PVD utilizes titanium nitride, which provides an extremely durable and tough coating. Compared to traditional gold plating, PVD coatings possess far higher resistance to wear.
It is a well-known fact that PVD coating lasts longer on products than traditional gold plating.
Some of the main advantages of using PVD coating include:
High durability: PVD coating offers very high levels of durability.
Better corrosion resistance: PVD coatings provide better resistance to corrosion caused by sweat, chlorine, and other elements.
Wide range of gold colors: Different shades of gold color can be produced with PVD coating.
Thicker coatings: Gold PVD coatings can be up to ten times thicker than conventional gold plating.
In summary, PVD coating provides a superior finish that is highly resistant to wear and corrosion, making it an excellent choice for stainless steel jewelry.
What's the Difference in Metal Manufacturing Jewelry?
Stainless steel offers enhanced durability and a longer lifespan than sterling silver due to its inherent corrosion and scratch resistance. The durability of stainless steel allows you to wear it daily with no worries about its appearance.
Here is a chart to get a better, quick understanding of the comparison of different metals.
Jewelry

Plating

Cost Friendly

Hypoallergenic

Lightweight

Non Tarnish

MOQ Needs

925 Sterling Silver

Rhodium : 0.03 ~ 3.0 microns
Gold: 0.03 ~ 0.50 microns

V

V

V

V

50 ~ 100 pcs

Silver Plated

Can't Plate with Thickness

V

 

 

 

100 pcs

Brass

Rhodium : 0.03 ~ 3.0 microns
Gold: 0.03 ~ 0.50 microns

V

 

 

 

100 pcs

Stainless Steel

PVD Way

V

V

 

V

100 ~ 300 pcs

Alloy

Can't Plate with Thickness

V

 

V

 

100 pcs
What Services do We Offer?
We can offer stainless steel samples to test the quality
Send us your design and we will reply to you with the quotes
We Have the ability to accept and place big bulk orders
Contact JR Fashion Accessories and send us your designs NOW!
Looking for a price quotation or need information? Please send your custom requirement and our Sales Representative will get back to you with a quote and related details you may need to know.
Let's start manufacturing your jewelry with JR Fashion Accessories
How to Order Custom Jewelry?
Please check the jewelry process below. It makes you know the jewelry step more clearly. If you have any questions, please do not hesitate to contact us.
 
 
 
1. Send an Inquiry
2. Provide Design, Sample, or Inspiration
3. Discussion and
Prepare Quotation
 
4. Prepare CAD design to approve
5. Start Molding
6. Casting
 
7. Polishing
8. Plating
9. Sample Checking and
Ready to ship
The new arrival will soon be available to launch.