About Us
JR Fashion Accessories - A Professional Custom-made Jewelry Manufacturer
JR Fashion Accessories is a Premium Manufacturer of Fashion Jewelry, specializing in custom-made Jewelry & Accessories. We are confident to provide professional service to our valued customers in our fashion jewelry and accessories business.
We offer a wide range of 925 sterling silver and stainless steel jewelry for wholesale purchase, as well as customizations including Custom Hip Hop Jewelry and Custom Religious Jewelry. Whether you prefer bold statement pieces or delicate designs, we have the expertise to create the perfect jewelry to fit your style. Trust us for high-quality, stunning pieces that will stand the test of time.
JR provides full-service custom jewelry manufacturing solutions; including CAD design, rapid model prototyping, metal casting, engraving, stone setting, and plating services at competitive prices.
We founded in Taiwan in 2019, is a subsidiary company of Jin Sheu Group, established in 1984. Jin Sheu Company is accredited by world customers for custom-made souvenir products and promotional giveaways. With a decade in the manufacturing business of jewelry, JR specialized in custom-made 925 Sterling Silver, Stainless Steel, Brass/Copper, and Zinc alloy. JR Fashion will continue the Jin Sheu Group's philosophy and aspire to lead the market by providing a variety of popular accessories for different ethnicities, cultures, and countries.


Email: service@jr-earring.com

WhatsApp: 886-958-802-677

Make Your Jewelry Design Come True
We specialize in helping brands and designers launch their unique jewelry and produce their existing ones. We support and manufacture your design, especially, we make your all ideas happen. To coincide with your personality, We accept various customized collections from cubic zirconia and pearl jewelry to the latest fashions such as hair accessories and key chains with imitation stones and exquisite settings. JR Fashion will bring you a never-ending choice in jewelry giving you every bit of a dream aura experience.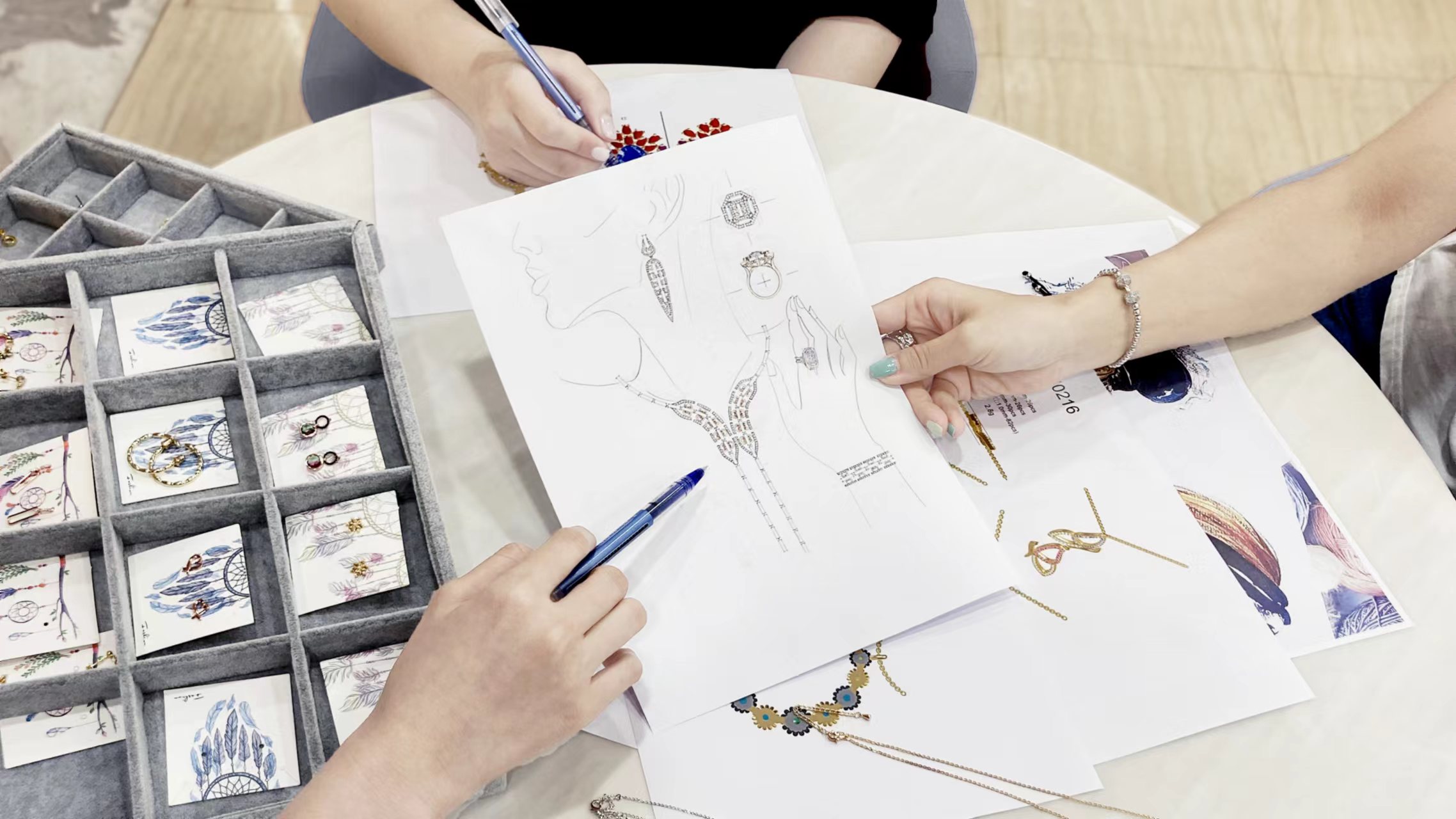 ♛ Custom Made Jewelry Is EASY ♛
WE KNOW YOU NEED A GOOD COMMUNICATOR
JR always updates the status of an order, has good communication and understands your needs
WE KNOW YOU HAVE A BUDGET CONCERN
Budgeting increases profit. JR works with your budget and current business needs to offer the proposal on suggestions for material, design, and quality
WE KNOW YOU WANT TO WORK IN A SIMPLE WAY
JR offers a One-Stop Service and custom-made logo tag, jewelry making, and custom packaging material to save your time
WE KNOW YOU WORRY ABOUT SHIPPING COST
JR has choices of different shipping companies to get a good rate of the shipping cost for delivery in order to reduce shipping costs for customers
Sharing Our In-house Jewelry Manufacturing Process
Here is a short video of the jewelry process for your reference. You may see some handcrafted settings from our crafters.
Jewelry CAD Building
Experienced jewelry manufacturers like JR Fashion will walk you through the entire process from sketches, CAD and comes to jewelry making. In each stage, the jewelry is inspected and each is analyzed to make sure production is going well. We'll Bring Your Unique Jewelry Designs To Life!

Professional Handcrafted Setting Jewelry Factory
Our skilled craftsmen handle everything from mold making, stone setting, and polishing every single piece to perfection by hand. Our mission is to provide the highest quality, the best experience, and the newest products and services to the jewelers we serve.
We aim to offer designer jewelry & accessories that are stylish and affordable, with fine craftsmanship, and good quality. In addition to the concept of operating with integrity, we are striving to think beyond the customer's expectations and to think about the fashion jewelry & accessories that suit our customers. Custom-Made Fashion Jewelry & Accessories are our specialized and with all In-house designs with a well-organized Quality Check prior to each shipment.
Finally, to create a successful service offering, we welcome low-quantity orders. We provide not only solutions for custom-made jewelry but also ONE-STOP service to make your job easy and save you time. We strive to meet and exceed our customers.

Jewelry Certification Reports
We offer jewelry test reports for the material. Our jewelry certification reports provide an all-around assessment of material if you need more detail, please contact us.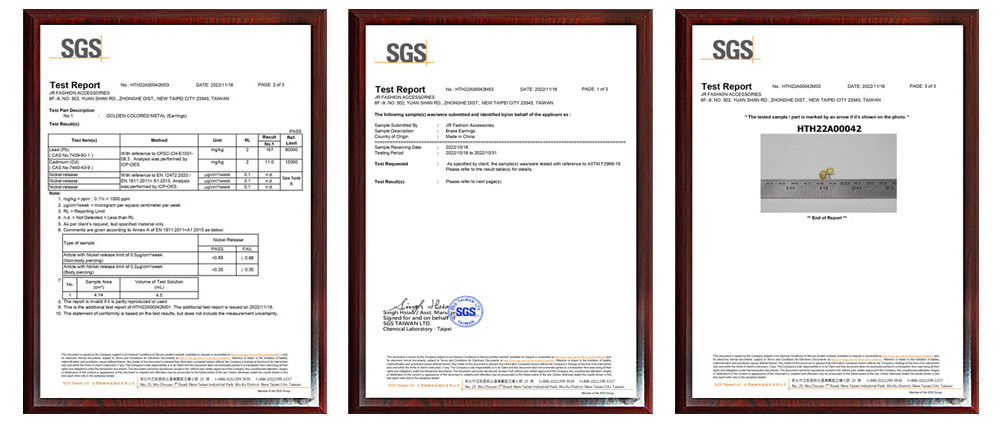 YOU DESIGN, WE MANUFACTURE
We are an OEM and ODM jewelry manufacturer with low MOQ. We can make the full range of jewelry ordering for you. Welcome to send me your design or idea and we will be glad to give you a suggestion.

JR will do everything in our power to make sure that you're satisfied with our quality. It is all about your design specifications, expectations, and your timeline. We're only here to give you the helping hand you need for custom-made jewelry.
How to Place an Order?
We will help you in every step to custom made your jewelry.
Website Inquiry → Quote Price → Confirm Order → Payment → Production → Delivery → Receive Products

Cannot find what you want or have more concerns?
Email us your designs or have a Whats App online chat.
We will explain the custom-design process to you and its estimated costs for your reference.

Email: service@jr-earring.com

WhatsApp: 886-958-802-677