Jewelry Packaging Set
Custom Jewelry Packaging with Logo is available now!
In addition to providing jewelry manufacturing, we also provide customized jewelry packaging. Choosing the right packaging ways in your jewelry will show off your jewelry more gorgeous and personalized logos on the box will make your brand identity. Customized jewelry packaging not only enhances the quality of your jewelry but also deepens your brand impression. We provide a variety of packaging ways from different types of materials or sizes for your options and our custom jewelry box packaging is cost-effective and affordable.

Economic Packaging Ways For Jewelry
Now, here are some affordable packaging ways for options. It's very suited for the beginning jewelry brands because we can custom made your brand logos on packing covers in a low quantity. If you choose from these ways that we provide, the price is cheaper and the minimum order is very low and everyone can afford it. No matter whether you're looking for bulk jewelry packaging or low-quantity jewelry packaging, JR Fashion can help you.
1. The Basic OPP bag packaging with jewelry backing cards is the cheapest way option. These OPP bags are durable and sturdy and can be customized and come with self-adhesive tape. Custom printing of your logos on backing cards is available.

2. Microfiber Jewelry Pouch With Custom Logos is another option for jewelry packaging. We offer three classic styles of microfiber jewelry packaging pouches for options, like envelope bags, add string-on bags, and the pouch with the button. Not only there are various styles options, but also there is a variety of sizes for choosing and we also can custom made your logos on bag covers. Our standard size of jewelry pouches is 80 x 80mm. If you need other sizes, please contact us.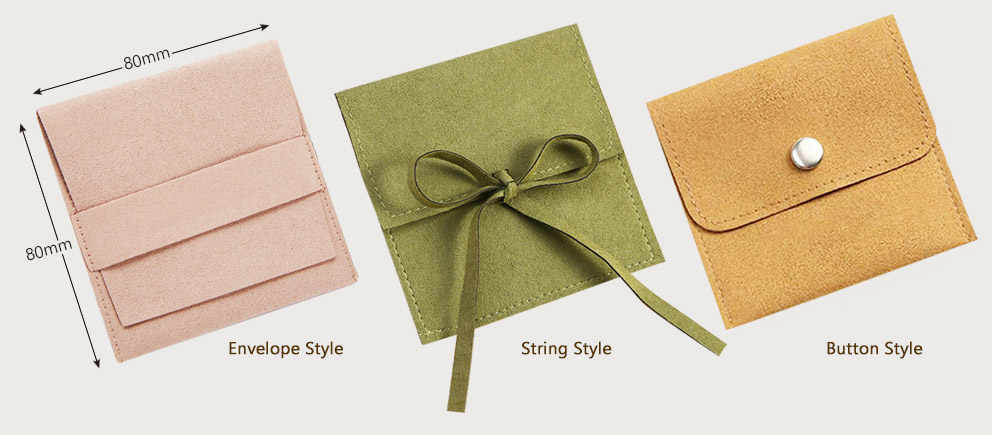 3. Microfiber Jewelry Pouch With Custom Box is the luxury packaging way option. If you want to add jewelry packaging more luxury, the custom box is a good idea this time. In our efficient jewelry packaging set, after choosing microfiber pouch bags, you could add a custom box outside. Not only custom-made brand names on the jewelry pouch bag but also on the outside box covers. We provide a variety of sizes in magnet closure rigid box jewelry boxes and drawer sliding rigid jewelry boxes for options.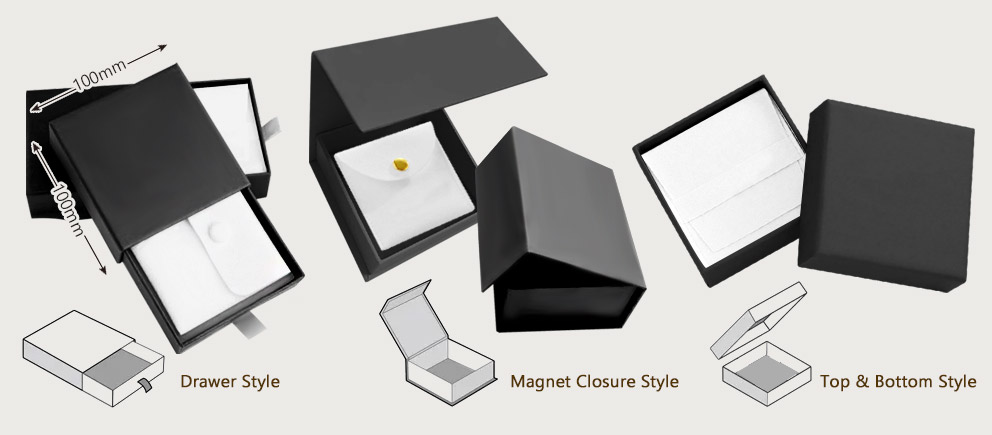 Personalized Your Business Logo on Packaging Cover
After you choose the way of the jewelry packaging, we also accept personalize your logos on the packing cover. Your logos, brand names or icons can be printed, debossed, or hot-foiled on the box covers or pouches. Send us your business logo and get customized jewelry boxes, bags, pouches, and more custom services from JR Fashion.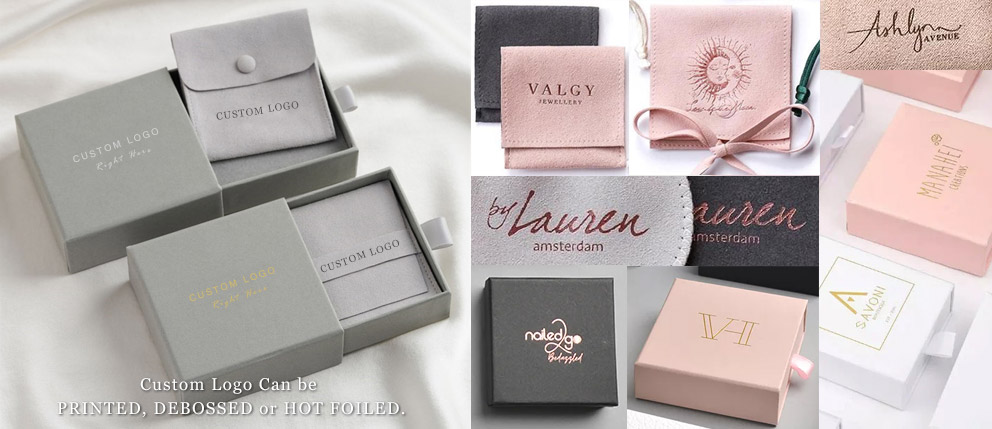 Please check below that we show more detail of Microfiber Jewelry Bags
Standard Envelope Style Microfiber Jewelry Bag

Envelope Microfiber Jewelry Bag with String

Microfiber Jewelry Packaging Bags with Button

Except for custom-made brand logos on microfiber, we also accept customize microfiber colors. There are so many microfiber colors for options that can meet your company spirit color. Welcome to send us an email to learn more information about the color.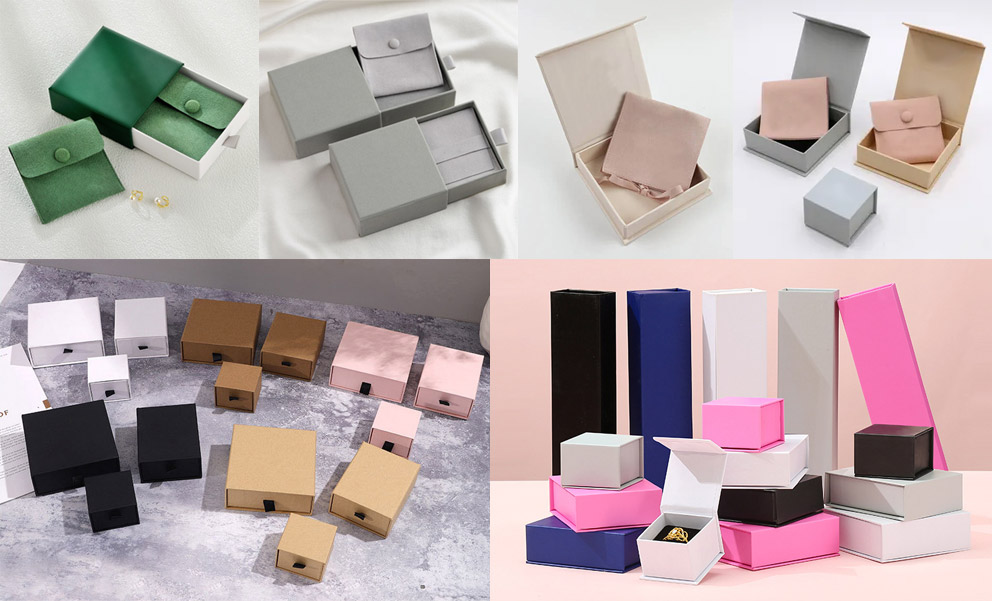 You can choose from a wide range of jewelry packaging ways from JR Fashion. Whether you need to pack necklaces, bracelets, earrings, pendants, or other jewelry pieces, we have custom-printed jewelry boxes or pouches to keep them safe. We have various boxes and pouches for some series and our minimum order quantities are unusually low. You won't find that affordable offer from other packaging companies. If you could not find out the packaging way on our website or need specific packaging ways, please feel free to contact us directly.
The new arrival will soon be available to launch.