925 Sterling Silver Jewelry

Our main focus is customizing sterling silver jewelry. If you don't have any ideas for styles, you can browse our S925 existing designs to find the perfect piece that fits your unique taste
Five Important Facts You Need To Know About Custom Jewelry In 925 Sterling Silver

Sterling Silver, also known as 925 sterling silver, is a metal alloy used in jewelry, and decorative household objects. It is 92.5% silver (Ag), and 7.5% copper (Cu).
In our JR jewelry is produced with solid sterling silver, which means the alloy of silver contains 92.5% by weight of silver. The plating varies from gold, rose gold to rhodium. More our eco-friendly sterling silver is compliant with the EU/USA standard of Lead, Cadmium, and Nickel (EU Standards: EN 1811 – Nickel Releases / EN-12472 – Lead Content, Cadmium Content)
If you need Jewelry Certification Reports, We can provide them to you.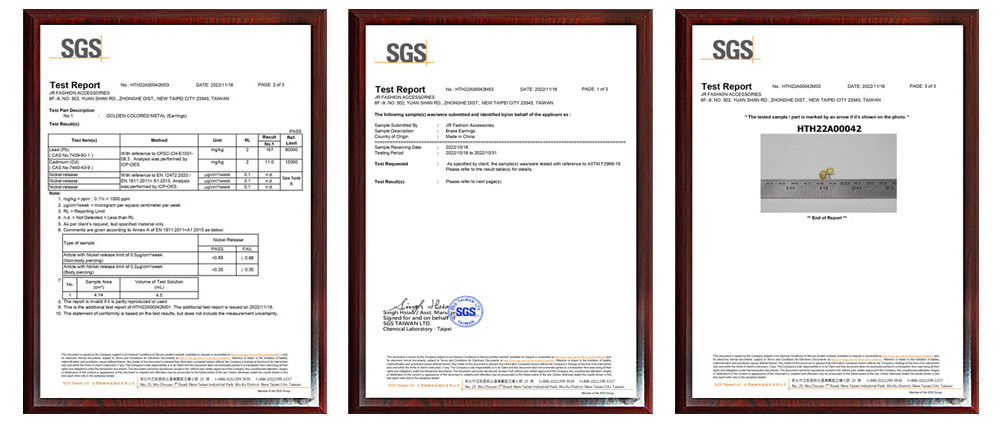 1. How To Tell If The Jewelry Piece Is Made If 925 Sterling Silver?
The stamp 925 is an indication to identify genuine sterling silver jewelry which contains 925% silver that is the easiest way to tell if sterling silver is real. You may see 925 or S925 symbol stamps on rings of the inside band or clasp of bracelets and necklaces and also show on a separate charm of the jewelry.

2. Any Other Ways To Know If I Am Buying Fake Silver Or Just Silver Plated?
a) Rub With A Soft Cloth
A lot of silver-colored jewelry pieces may look almost similar to the naked eye despite being made from different materials or simply being silver-coated, so the easiest test for 925 sterling silver jewelry way is using a soft cloth to rub your piece. Try rubbing a light-colored, soft cloth over the piece a few times. As 925 silver contains copper or other alloys, it will cause dark marks to appear on the cloth as the silver oxidizes. If there are black marks on the cloth, this is a genuine sterling silver piece because real silver oxidizes on exposure to the air and hence the tarnish left on the cloth.

b) Magnet Test
The magnet test is another simple way to check whether sterling silver jewelry is real or not. You can hold a magnet above or near your jewelry piece. Because pure silver is not magnetic, the 925 silver jewelry won't be drawn to the magnet. Please Carefully double check your jewelry piece is genuine by testing it with a magnet. Neither silver, gold nor platinum is magnetic, so if your jewelry sticks to the magnet, it is likely, not genuine. We accept testing on random items in orders by customers. It will make our customers more confident about our jewelry quality.

3. To Secure Your Rights For Purchasing Real Sterling Silver From JR
The most precise technique for testing silver is using an electronic or XRF Thermo testing machine. JR as a professional appraiser has put in an investment to purchase this XRF Thermo testing machine by using this method to find out the exact contents of silver products that we are supplying to our customers.
The X-Ray Metal Testing can be done within 5 minutes with our state-of-the-art machine. Then a result report could be received after the process. This is of great help for JR to maintain the good quality of our jewelry.

4. Is 925 Sterling Silver A Good Investment?
Sterling silver is always a good investment, because of the material content, and also even if it is under gold plating; the layers of plating process we are conducting will make the jewelry piece last longer and it won't cause allergies or turn your skin green. No wonder why people love using such precious metals to make jewelry that is very attractive to look at and also very durable. Attractive jewelry made from precious metals is also a subtle way to flaunt the wearer's wealth.

5. Concerning 925 Sterling Silver Plated
925 sterling silver is a common silver-white metal, composed of 92.5% precious metal "silver" and 7.5% other metals. Due to its low hardness and susceptibility to oxidation and blackening, a metal cover needs to be plated on its surface.
Our rhodium plating has a thickness of 0.03 microns, which is considered good enough for jewelry pieces that will be exposed to rough wear. If the rhodium plating is too thick, it can crack due to the brittleness of the rhodium.
For gold plating, we plate it with a thickness of 0.03 microns and then coat it on top. The color will remain for 1-2 years depending on how the customer uses it. We can increase the thickness of the gold plating as per the customer's request.
Although 925 silver jewelry will be plated in color, customers still need to clean and maintain it with a silver cloth to keep its luster.
6. Should I Produce The Design In 925 Sterling Silver?
Sterling Silver Jewelry is beautiful, durable, and varied and can be customized in any size, shape, and design. The most important thing is the value of sterling silver still makes jewelry itself expensive. The precious metal has held its own with time and will likely always be in trend as fine jewelry.
Here is a chart to get a better, quick understanding of the comparison of different metals.
Jewelry

Plating

Cost Friendly

Hypoallergenic

Lightweight

Non Tarnish

MOQ Needs

925 Sterling Silver

Rhodium : 0.03 ~ 3.0 microns
Gold: 0.03 ~ 0.50 microns

V

V

V

V

50 ~ 100 pcs

Silver Plated

Can't Plate with Thickness

V

 

 

 

100 pcs

Brass

Rhodium : 0.03 ~ 3.0 micron
Gold: 0.03 ~ 0.50 microns

V

 

 

 

100 pcs

Stainless Steel

PVD Way

V

V

 

V

100 ~ 300 pcs

Alloy

Can't Plate with Thickness

V

 

V

 

100 pcs
What Services Do We Offer?
JR Fashion can offer manufacturing and finishing services in sterling silver.
CAD design
Wax Carving
Casting
Polishing
Stone setting
Laser Engraving
Plating
We will help you from your idea, and sketch to CAD design step by step to finished jewelry products with your design. Before we ship jewelry products, we take great care of our Silver Jewelry quality. We have a rigorous pre-quality check process to ensure that our products meet the highest standards.

Contact JR Fashion Accessories And Send JR Your Designs NOW!
Now you have learned more about how to tell real 925 sterling silver jewelry. You can save yourself a lot of trouble by purchasing real sterling silver jewelry from a genuine and reputable jeweler. JR Fashion has established an excellent reputation as a seller of real, solid, and the most beautiful 925 Silver jewelry.
Let's start manufacturing your jewelry with JR Fashion Accessories
How to Order Custom Jewelry?
Please check the jewelry process below. It makes you know the jewelry step more clearly. If you have any questions, please do not hesitate to contact us.
 
 
 

1. Send an Inquiry

2. Provide Design, Sample, or Inspiration

3. Discussion and
Prepare Quotation
 

4. Prepare CAD design to approve

5. Start Molding

6. Casting

 

7. Polishing

8. Plating

9. Sample Checking and
Ready to ship
The new arrival will soon be available to launch.